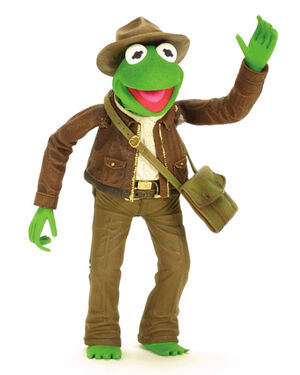 The Adventure Kermit Action Figure was produced by Palisades Toys and sold as an exclusive at conventions and through the Palisades Collectors Club.
Adventure Kermit is based on an appearance of Kermit's in The Muppets at Walt Disney World, in which he plays the role of Indiana Jones opposite Miss Piggy in the Indiana Jones Epic Stunt Spectacular attraction at the Disney-MGM Studios.
To avoid copyright violation, Indiana Jones was not mentioned on the package, although tongue-in-cheek references to George Lucas and the legal protections afforded to parodies were included. In 2008, an official book by DK Publishing, Indiana Jones: The Ultimate Guide, includes a picture of the figure and a description in its section discussing Indiana Jones merchandise.
Kermit's hat is magnetic. The shoulderbag fits around his shoulders. On his pants are a holster for the gun and a hook for the whip.
Palisades planned an Adventure Kermit contest about a search for a real Golden Gonzo.
There were three production runs of Adventure Kermit, each with its own minor color variations.
External links
Community content is available under
CC-BY-SA
unless otherwise noted.