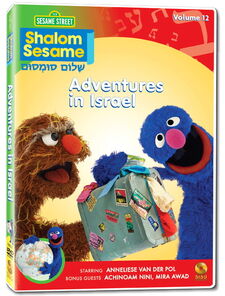 Picture
Segment
Description




SCENE 1
Shoshana welcomes the viewer as they prepare for a special party on Rechov Sumsum. Annelise will be heading back to America soon and they want a special way of saying goodbye. Shoshana adds that Anneliese is currently seeing the sights of Israel with Kobi, hoping to take in as much as she can before she leaves.

SCENE 1 cont'd
Anneliese and Kobi tour Tel Aviv and have some fun on the nearby beach.

Cartoon
Two couch potatoes find fun things to do at the shore.

Animation
The Hebrew month of Tammuz




SCENE 2
Grover arrives to help set up for the party and is instructed to wait for the balloon delivery man. Grover accepts the delivery, but soon finds himself being lifted into the air!

Film
Sheryl Lynn and her mommy look at things that fly at the beach.

Cartoon
Words that being with Ayin

SCENE 3
Grover floats through the sky over Israel and observes the oasis of Ein Gedi below. The wind blows him in another direction...

SCENE 3 cont'd
Kobi and Anneliese arrive at a 2,000 year-old stadium and race over to a coliseum nearby.

Film
Kids go on an archeological dig.

SCENE 4
Anneliese and Kobi observe the ruins, then spot the balloons in the sky. They believe to see Grover with them, but instantly brush the idea off. Kobi brings Anneliese back to the street for a surprise.

SCENE 4 cont'd
Grover continues his flight over Israel and observes the people enjoying the Dead Sea.

Cartoon
Words that begin with Bet

Muppets
Ernie sings "Rubber Duckie." (Ernie's singing vocals are dubbed in Hebrew.)

Muppets / Celebrity
Maggie Gyllenhaal explains the word surprise and is surprised by Elmo, Zoe, Rosita, Grover, Telly and Abby.

SCENE 5
Anneliese and Kobi arrive back on Rechov Sumsum, where they find a surprise party awaiting them. Grover finally lands as Anneliese thanks everyone for such an unique experience. They all start celebrating.

Muppets
Bernice counts to 10 - but has some help from Bert.

Muppets
The Number of the Day: 10
A talking number ten appears after The Count reveals that 10 is the number of the day. "Finally the ten-sion is broken!"

Animation
A butterfly has fun with 10 flower petals.
Artist: Misseri Studio

Film
Two boys are the best of friends, even though one is speaks Hebrew and the other Arabic.

Muppets
Postcard from Grover
Grover explores the city of Haifa.

Closing
The sponsors are announced.
DVD Bonus
Grover's Sing-A-Long: "Rubber Duckie"
Grover's Video Player: "There Must Be Another Way"