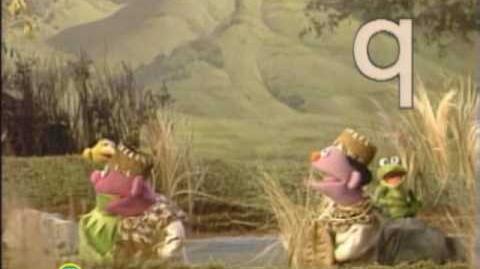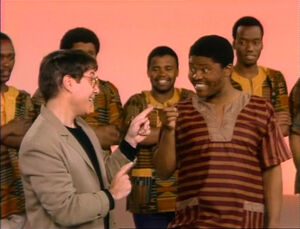 "African Alphabet" is a Sesame Street song performed in two different season 19 inserts, both involving the South African a cappella group Ladysmith Black Mambazo.
One version was performed by Kermit the Frog and a group of Anything Muppets (voiced by Ladysmith Black Mambazo), made up of five different patterns: Fat Blue, Lavender, Pumpkin, Purple, and Reddish Magenta. The creatures of the savanna, including numerous frogs and birds, sing along as well. Kermit recites a short story in which each word begins with a consecutive letter of the alphabet as they are sung.
At the end of the song, the chief asks Kermit, "Iphi imali?" This is Zulu for "Where is the money?"
Another version of the song was performed by Paul Simon and Ladysmith Black Mambazo, a cappella style. This version omits the story verse. (First: Episode 2431)
A worm parody of the group, "Wormsmith Black Mambazo," later sang the song in Episode 3448.
Notes
Performers for the Muppet version include Patricia Hodelin, Richard Hunt, Richard Termine, Bryant Young, Caroly Wilcox, Pam Arciero, Kevin Clash, Martin P. Robinson, David Rudman, Jerry Nelson, and Pat Hudson.[1]
Releases
Audio
Video
Special
Online
See also
Sources