This article is about an upcoming project, product, or production.

Ahlan Simsim (translating to "Welcome Sesame") is an upcoming Arabic co-production of Sesame Street to be launched in Fall 2019. The program will "feature brand-new, Arabic-speaking Muppet characters with storylines that both displaced and host community children can relate to."[1]
At the 2019 Cannes Lions festival, Sherrie Westin and Brown Johnson unveiled the three new Muppet characters to be used in the series, including a female monster named Basma.[2]
The project, originally proposed under the working title "Sesame Seeds," was created for Middle Eastern areas with populations of Syrian refugees, including Iraq, Jordan, Lebanon and Syria. In addition to the main television program, project will have components bringing education to the children of the refuge camps - home visitation and caregiving, the creation of learning centers and through mass media.
Development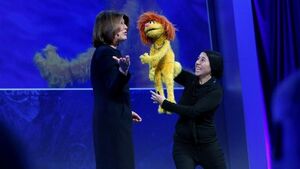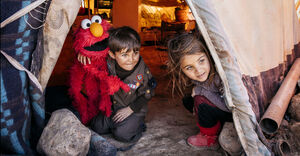 The project was created in partnership with the International Rescue Committee (IRC), where it was entered in the MacArthur Foundation's first-ever "100&Change" competition for a one hundred million dollar grant. The organizations entered the competition in 2016 and out of over 800 applicants, they were named among the eight semi-finalists in February 2017.[3] By September, they were among the top five finalists.[4]
Sherrie Westin, Executive Vice President, Global Impact & Philanthropy at Sesame Workshop, presented the organization's plan for the project at the MacArthur Foundation's presentation on December 11, 2017, where she was briefly joined onstage by Tonton, of Jordan's Hikayat Simsim.
On December 20, 2017, it was announced that Sesame Workshop and the IRC were the winners of the competition, allowing the project to move forward.[5]
Characters
Basma, "the adventurous almost-six-year-old purple monster"
Jad, her shy new best friend, "who's new to the neighborhood"
Ma'zooza, "their mischievous goat sidekick... who eats everything in sight"
Various animated and human characters will interact with Basma, Jad, and Ma'zooza on the series.[6]
Sources
External links
Community content is available under
CC-BY-SA
unless otherwise noted.