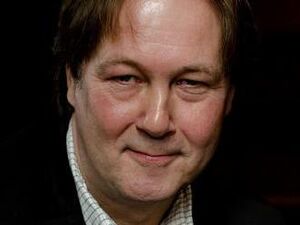 Ajé Boschhuizen (b. 1962) started his career in 1999 as an editor on Sesamstraat, the Dutch co-production of Sesame Street.
When Boschhuizen started to work on the show, he still attended his college. Before they could properly hire him, he had to finish his studies (which he did with an essay that resulted in his background book Poehéé!). He had plans to write a second edition, "hopefully with a DVD included with old fragments and episodes". [citation needed] After years working for Sesamstraat, the producers found it a good idea to clearup the office space they worked in. And behind Ajé's desk on the bottom of the closet they found a box. It contained all old material and even the lost Pilot episode.
As editor, Boschhuizen is both financially and creatively responsible for the program. He determines how the show is formed and shaped. The editor has many tasks. He is representative of the program within the broadcaster NTR , but also outside its broadcasting. This means that the editor is the point of contact with the media, actors, etc. He also maintains contact with Sesame Workshop in America and invents new concepts for the program. He selects, with the seven other editors, what to include from the texts from the writers. In addition, the editor needs to ensure that the program remains within the budget. Finally, he must do his best to ensure that Sesamstraat will remain on the broadcast schedule of the public broadcaster and is broadcast at an appropriate time.
With Boschhuizen, Sesmatraat underwent many changes, affecting the current program. The broadcast time was increased from 15 minutes to 25, and back to two blocks from 10 minutes and 15 minutes a day. As mayor spokesman, he has been in the he news. In 2011, he was angry about the fact that the Sesamstraat Sinterklaas episode was pre-empted for a government hearing. [citation needed]
Boschhuizen also created, edited and wrote plots and scripts for het Sinterklaas Journaal the live broadcasts of the arrival of Sinterklaas.
Community content is available under
CC-BY-SA
unless otherwise noted.