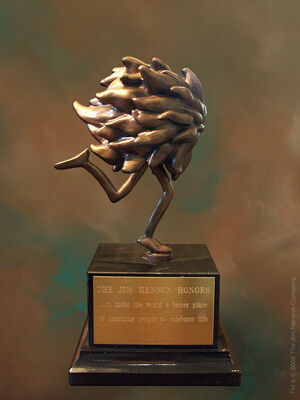 Al Gore (b. 1948) is an American politician, teacher, businessman, and environmentalist. From 1993 to 2001, he was the 45th Vice President of the United States under the Clinton administration.
Gore had served in the United States House of Representatives (1977–85) and the United States Senate (1985–93) representing Tennessee. He was the Democratic nominee for President in the 2000 election — but lost the electoral vote to George W. Bush. Today, Gore is president of the American television channel Current TV, chairman of Generation Investment Management, a director on the board of Apple Inc., and an adviser to Google's senior management. He lectures widely on the topic of global warming, which he calls "the climate crisis." In 2006, he starred in the Academy Award-winning documentary, An Inconvenient Truth, discussing global warming and the environment.
In 2006, Gore received the The Jim Henson Celebration Honor. The former Vice President received the highest honor that year for his "tireless efforts to educate audiences everywhere about the effects of global warming, and articulating his message in a compelling and powerful way that inspires action."
"

The Jim Henson Honors embrace the creativity and inspiration all around us. These honorees remind us that in whatever we do there can be beauty and joy that makes the world a better place...Mr. Gore has shown commitment to a message and has articulated that message in a creative way that has inspired discussion, debate and action. Our employees and artists have been impressed by his call to action as I am sure many others have as well.

"


—Lisa Henson[1]
While he has not yet appeared directly with the Muppets, Gore appeared as part of the Inaugural Celebration for Children in 1994 along with the Clintons, the Muppets and others. When Katie Couric quit as show host for The Today Show on NBC, there was a segment where first Al Gore, then Harry Connick Jr., and finally Kermit the Frog and Miss Piggy, sent her their best wishes. (video link)
Al Gore was a speaker at a New York State United Teachers (NYSUT) conference in April 2007, at which he was honored alongside Sesame Workshop CEO Gary Knell for their contributions to education.
Kyle Dean Pruett served as direct consultant to Gore for the White House Conference Men in Children's Lives and National Fatherhood Initiative as well as a founding member of the Sesame Beginnings advisory board.
Gore was also involved with the Better World Society, during its tenure.
Gore's wife, Tipper Gore, contributed a recipe for In the Kitchen with Miss Piggy.
References
Gore, and his documentary An Inconvenient Truth, was referenced in episode 27 of From the Balcony.
Sources
Community content is available under
CC-BY-SA
unless otherwise noted.