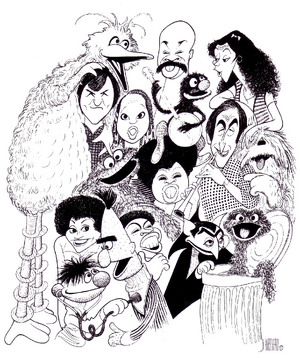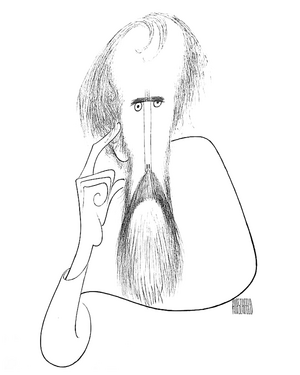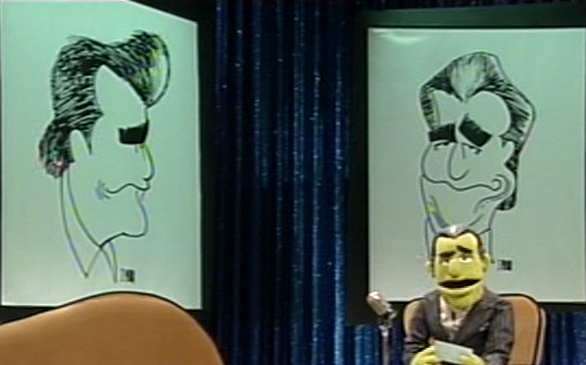 Al Hirschfeld (1903-2003) was an artist famous for his caricatures of celebrities. Hirschfeld depicted luminaries of stage, screen, radio, and television for The New York Times and other publications for nearly seven decades. His work was noted for its linear quality ("the Hirschfeld line"), particular patterns of cross-hatching, condensing the subject's most prominent features, and the intertwining of the name "Nina" (Hirschfeld's daughter) into his drawings.
To promote Sesame Street Season 15, Hirschfeld produced a caricature of the then-current cast and characters, including Emilio Delgado (Luis), Roscoe Orman (Gordon), Bob McGrath (Bob), Sonia Manzano (Maria), Alaina Reed (Olivia), Northern Calloway (David), Loretta Long (Susan), and Muppet characters Big Bird, Bert and Ernie, Oscar the Grouch, Grover, The Count, Barkley, and Cookie Monster. The drawing was reproduced in the accompanying booklet for Old School: Volume 1; as with most Hirschfeld drawings, several "Ninas" were included.
In 1988 Hirschfeld drew a caricature of Jim Henson for The Television Academy Hall of Fame.
References
Episodes 106 and 210 of Muppets Tonight feature "The Johnny Fiama Talk Show," the set of which is decorated with caricatures of Johnny Fiama drawn in the style of Hirschfeld. The art prints are signed by "J. Parr," actually Muppets Tonight set designer Julianna Parr.
Connections
During his long career, Hirschfeld caricatured many figures who worked with or had connections to the Muppets, including but not limited to the following: