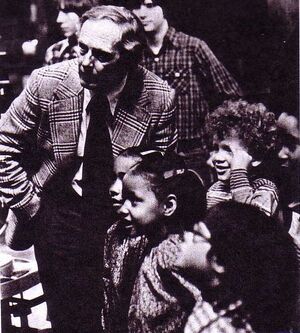 Al Hyslop (b. September 4, 1925), also known as Alfred Hyslop, was a producer on Sesame Street, having first joined Children's Television Workshop as a consultant for the international co-productions. He joined the American series as producer in 1978 for Season 10 and became executive producer for Season 11. From seasons 12 until 19, Hyslop was CTW's Vice President of Production (usually sharing the title with David Connell). Among his other contributions to Sesame Street is co-writing the song "Small 'B'" (with Joe Romano). Hyslop was also executive producer of 3-2-1 Contact.
Hyslop was born in California but educated in England, studying acting and performing on stage there and in New York. He appeared on Broadway in the 1949 play A Shop at Sly Corner, starring Boris Karloff. After gaining some television experience in the program department of Associated- Rediffusion in London, Hyslop returned to New York and worked for CBS Television. He joined Captain Kangaroo in 1958, first as a production assistant, then associate producer, and then taking over from Jon Stone as producer. He even returned to acting by playing Inspector de Meer in the special serialized episodes "Missing Paint Mystery," shot in Curacao in 1969.
Hyslop founded the Texas Theatre Foundation in 1973 and, in recent years, has occasionally returned to the stage, taking on multiple small roles in a Connecticut production of Julius Caesar in 2008.
External links
Stamford Plus. "Alfred Hyslop: from Karloff to 'Captain Kangaroo'."
Community content is available under
CC-BY-SA
unless otherwise noted.