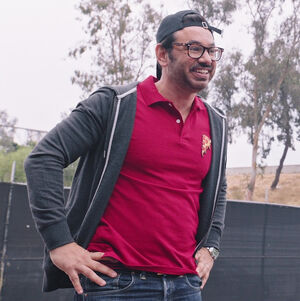 Al Madrigal (b. 1971) is an American comedian, writer, actor and producer.
He rose to fame on The Daily Show with Jon Stewart as a regular correspondent for five seasons. He was a regular sketch performer on The Late Late Show with Craig Ferguson and has also appeared on Conan and Jimmy Kimmel Live.
Madrigal appears to deliver pizzas to Bunsen and Beaker in the "Muppet Labs Field Test" segment of the Muppets Now episode "Getting Testy." He subsequently offers his services as a handy intern, when the duo are in need for somebody to operate their Deliv-Ro-Tron 5000. Due to his failure in reading "Beaky," Bunsen's term of endearment for Beaker, correctly on a cake, he repeatedly refers to him as "Becky."