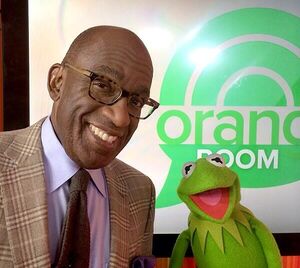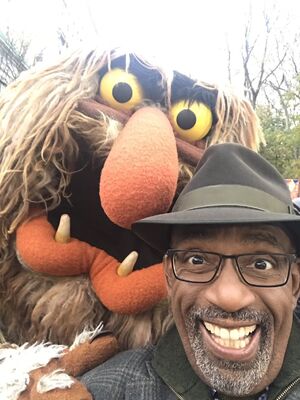 Al Roker (b. 1954) is the weatherman for The Today Show. He is married to Deborah Roberts.
Roker has interacted with the Muppets during the Macy's Thanksgiving Day Parade, and has made several appearances on Sesame Street. His most prominent appearance was co-anchoring the weather with Kermit the Frog during the Hurricane episodes in 2001. In Episode 4146, he presented "family" as the Word of the Day by showing a wallet full of family photos.
He has appeared with Muppet characters several times on The Today Show, most prominently with a Muppet version of himself in a special half-hour segment, "The Muppets Take Over Today." Roker also appeared in a PBS Kids promo about reading with Zoe.
In 2004, he was paired with Big Bird onstage at the Daytime Emmy Awards, performing "Sing" with other celebrities and Sesame Street Muppets.
At one point, he hosted the Al Roker Show on MSNBC, which included an interview with Kermit the Frog and Miss Piggy.
In 2014, Roker appeared in "W-ORD Channel 7 News With John Oliver & Cookie Monster," a video distributed by Mashable in support of Sesame Workshop's "Words Are Here, There, and Everywhere" initiative.
In 2019, Roker appeared inside Oscar's trash can as a part of the Sesame Street gang's pre-taped musical number for the 93rd Annual Macy's Thanksgiving Day Parade.
References
External links