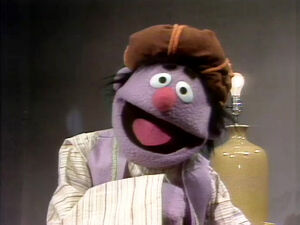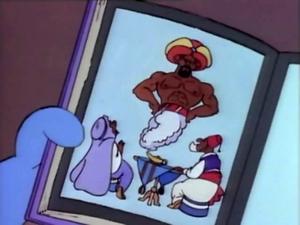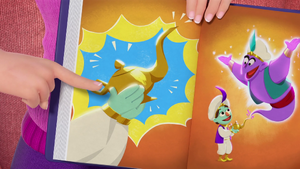 Aladdin is the title character in one of the most famous stories from One Thousand and One Nights. Despite its Middle Eastern origins, the story is classified by many as a fairy tale. The character and story have been depicted or spoofed by the Muppets on several occasions.
Appearances
In a Sesame Street News Flash sketch from Season 8 of Sesame Street, Aladdin's magic lamp is electrical, as opposed to the oil lamp traditionally used in the story. When Aladdin asks the Genie (recognizable by his light brown hair) for help turning the light on, the Genie shoots back that he isn't an electrician, so Kermit suggests that Aladdin screw in a light bulb, plug the lamp into an electrical outlet, and turn on the switch. In addition to his magic lamp, Aladdin has a magic toaster and a magic hot-comb. In this appearance, Aladdin was performed by Frank Oz, was made from the Anything Muppet pattern Large Lavender Live Hand.
Connections
Sources
External links
Community content is available under
CC-BY-SA
unless otherwise noted.