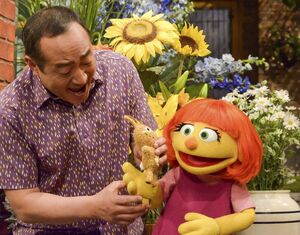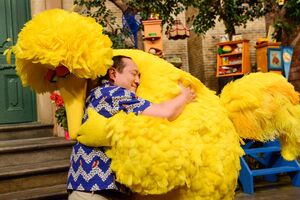 Alan is the genial Japanese-American owner of Hooper's Store on Sesame Street. Alan took over the reins from Mr. Handford in Episode 3786 and soon became particularly close friends with Baby Bear and Telly Monster. Alan later hired Gabi and Miles as his assistants. Alan's current assistant is Chris Robinson (the nephew of Gordon and Susan).
In Alan's first appearance on the show, Big Bird holds a Birdketeer meeting in the arbor, and the new owner of Hooper's finds himself as an overworked caterer for the meeting. As the day goes on, Alan is tempted to ask them to take their meeting somewhere else, but the Birdketeers then give Alan a big welcome to the Street. They praise him for his help in providing snacks and other things to eat for the meeting, thus marking the beginning of yet another beautiful relationship with the residents of Sesame Street.
Alan is held in high esteem by residents of Sesame Street, as evidenced by Big Bird's distress when Alan went on vacation in Episode 4060.
In addition to TV specials and home video titles, Muraoka, as Alan, has appeared in various live performances including the Macy's Thanksgiving Day Parade (since 1998), the 2001 Evening at Pops concert, and Jim Henson's Musical World.
Notes
At a panel at Eternal Con in 2019, Alan Muraoka joked that since Alan's place of residence has never been seen or referenced on the show, he imagines Alan resides in the basement of Hooper's Store with a mere cot and kerosene lamp.[1] A year later as part of the Caring for Each Other initiative videos and the Elmo's Playdate special, spots in Alan's residence have been seen.
Alan is the second longest-serving owner and manager of Hooper's Store, behind Mr. Hooper.
At one point, Alan was Naomi Osaka's t-ball coach. (See Us Coming Together)
Appearances
Book appearances
Sources