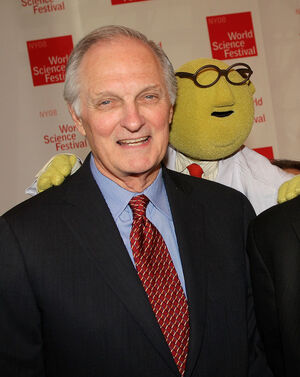 Alan Alda (b. 1936) is an Academy Award-nominated actor and the winner of six Emmys, five for his work as actor, director, and writer on M*A*S*H, where he starred as Hawkeye Pierce. In addition to his acting and directing career in film and television, Alda is also well known for his interest in science, in which capacity he hosted the PBS series Scientific American Frontiers for eleven years. As an advocate of increased public understanding of science and research, Alda served as an advisor and speaker at the first World Science Festival, held in New York City from May 23 until June 1, 2008. At the April 2 press conference at New York University announcing the event, Alda was joined by festival co-founder Brian Greene, Chancellor Joel I. Klein of the New York City Department of Education, and a special guest from Muppet Labs, Dr. Bunsen Honeydew (who posed for photos with Alda and others and sprayed Klein with silly string).
Alda's other TV acting credits include a stint on the The West Wing from 2004 through 2006 (earning an Emmy for his portrayal of Presidential candidate Arnold Vinick) and guest spots on ER (recurring as Dr. Gabriel Lawrence), The Carol Burnett Show, The Nurses, and The Phil Silvers Show. In film, Alda has worked with Woody Allen in Crimes and Misdemeanors, Manhattan Murder Mystery, and Everyone Says I Love You. Other film credits include Paper Lion (his first starring role), Canadian Bacon (with John Candy), Flirting with Disaster (as Lily Tomlin's husband), What Women Want (with Mel Gibson), and The Aviator.
Alda also wrote, directed, and starred in The Four Seasons (with Carol Burnett and Rita Moreno), Sweet Liberty (with Michael Caine and Michelle Pfeiffer), A New Life (with Hal Linden), and Betsy's Wedding (with Madeline Kahn and others). He recently authored two best selling memoirs, Never Have Your Dog Stuffed and Things I Overheard While Talking to Myself.
References
Sources
External links
Community content is available under
CC-BY-SA
unless otherwise noted.