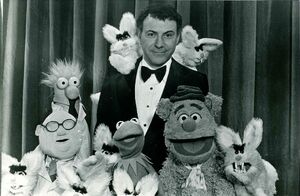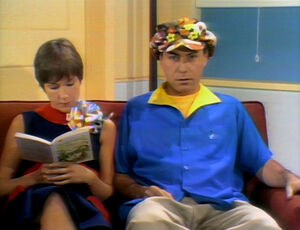 Alan Arkin (b. 1934) is an actor in film, television, and stage. From 1970 to 1971, he performed in recurring Larry and Phyllis sketches on Sesame Street in season 2, with wife Barbara Dana as Phyllis. In 1979, he was the featured guest star on The Muppet Show episode 420, and returned to appear as the Muppet Studios tour guide in The Muppets in 2011.
Arkin also appeared in a Facebook app hosted by the official page for The Muppets, singing "Mah Na Mah Na".
Following minor roles on television in the 1960s, Arkin co-starred with Carl Reiner and Jonathan Winters in the 1966 comedy The Russians Are Coming, the Russians Are Coming; for his portrayal of the weary Russian lieutenant, he received an Oscar nomination for Best Actor, and another in 1968 for The Heart Is a Lonely Hunter. That same year, he portrayed Inspector Jacques Clouseau (taking the role from Peter Sellers) in Inspector Clouseau.
In 2007, Arkin won an Oscar for Best Supporting Actor for his work in the film Little Miss Sunshine.
External links
Community content is available under
CC-BY-SA
unless otherwise noted.