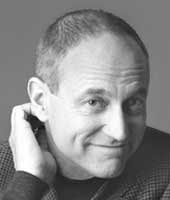 Alan Caso is a cinematographer who served as director of photography on the two 1999 Muppet films, Muppets from Space and The Adventures of Elmo in Grouchland. For the latter film, Caso discussed some of the complexities of the task in the presskit:
"

In this film, I wasn't able to use the camera as a point of reference from which you see the world of the movie. It was more like looking at it from a child's knees. The Muppeteers hold the Muppets up over their heads so that they are about six feet up in the air, and any humans in the scene are up in the air about nine feet because they stand on three-foot platforms in order to be in perspective with the Muppets. I'm standing on the floor looking up at everything. We had to work off ladders and platforms using a remote camera on a large crane which didn't allow us to look through the camera while we were lighting and shooting, but through a videotape on a remote head.

...Another challenge was keeping Elmo from glowing. He was so red that we tried to use a different light to offset some of the redness. The thing about all Muppets is that they suck up the light. Elmo, Grover, Telly, Cookie Monster, those characters really suck up the light. Oscar lit the best. There were definite considerations to be dealt with in keeping light on the Muppets and trying to minimize it on the humans. "
Caso's other film credits include Reindeer Games, Ed, Midnight Kiss, and Hotel Oklahoma. His most prolfic work has been in television, however, on such series as Sliders, Any Day Now, Joan of Arcadia, and Six Feet Under (which he also directed an episode of). TV movies and miniseries, include Tom Clancy's Op-Center, Shake, Rattle and Roll, Frankenstein, Into the West, and The Librarian: Quest for the Spear.
External links
Community content is available under
CC-BY-SA
unless otherwise noted.