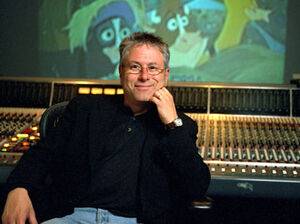 Alan Menken (b. 1949) is an Academy Award-winning composer famous for writing songs from Disney movies such as The Little Mermaid (1989), Beauty and the Beast (1991), Aladdin (1992), Pocahontas (1995), The Hunchback of Notre Dame (1996), Hercules (1997), Home on the Range (2004), and Tangled (2010). Menken also wrote the music for the 1982 musical Little Shop of Horrors, which was adapted into a feature film directed by Frank Oz in 1986.
Early in his career, Menken was a piano accompanist for Northern Calloway before composing for Sesame Street as early as 1978, then on a more frequent basis around the early 1990s. His Sesame Street songwriting credits include the songs "It's Gonna Get Dirty Again," "What is Friend?", "Martian Family (Yip Yip Song)," and "Todos un Pueblo." Menken says of his time on the Street, "It was pathetic money, but it still had some prestige to it. It was on the air and I was getting some royalties."[1]
Menken and longtime collaborator Howard Ashman also wrote the song "Wonderful Ways to Say No" for the 1990 animated TV special Cartoon All-Stars to the Rescue. The song was performed by an all-star cast of characters, including Baby Kermit, Baby Piggy, and Baby Gonzo.
Song Credits
References
Sources
External links
Community content is available under
CC-BY-SA
unless otherwise noted.