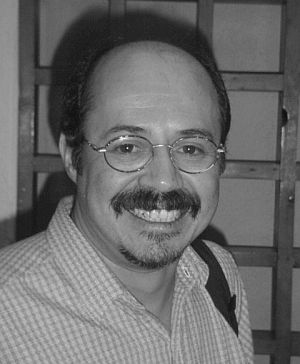 Alejandro Illescas (ca. 1960 - 2008) was a Mexican voice actor who dubbed Gordon in The Adventures of Elmo in Grouchland, Gallaga in Jack and the Beanstalk: The Real Story, Dr. Gene Reis in Dr. Dolittle, Al the cabbie in The Phantom, and a casino man in The Flintstones in Viva Rock Vegas.
Illescas was heard in the Spanish dubs of numerous films and TV series, usually in bit parts as reporters, policeman, the violinist in Titanic, or an orc in The Lord of the Rings: Fellowship of the Ring. Some of his more substantial dubbing assignments included Sean Bean in GoldenEye, John Cleese in The World is Not Enough, John Glover in Batman & Robin, Cheech Marin in Paulie, Harry Dean Stanton in The Green Mile, James Levine in Fantasia 2000, and Watto in the Star Wars prequels.
On television, he dubbed Robert Beltran on Star Trek: Voyager, Ted McGinley on Married... with Children, and various minor roles on Lost and Alias. In animation, Illescas voiced Happy in the 2001 dub of Snow White and the Seven Dwarves, Boomhauer on King of the Hill, Genma Saatome on Ranma ½, Uncle Ted on Bobby's World, and Professor Xavier, the Red Skull, and Iron Man on Spider-Man.