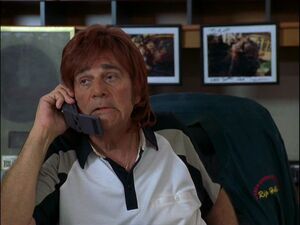 Alex Rocco (1936-2015) was a raspy-voiced character actor, often cast as gangsters or sleazy businessmen, as typified by Moe Greene in The Godfather. He appeared in the Creature Shop-effects film The Country Bears as seedy promoter Rip Holland.
Prior to The Godfather, Rocco primarily played henchmen (as on Batman, Mission: Impossible, and Get Smart) and parts in exploitation or low budget fare (like the lead in 1971's Wild Riders). Afterwards, while still often mining similar territory, his profile and work increased and often included law enforcement as well. Subsequent films included Freebie and the Bean (with Alan Arkin and Loretta Swit, as a D.A.), Herbie Goes Bananas and Cannoball Run II (as henchmen again), The Stuntman (with Peter O'Toole, as a small town police chief), That Thing You Do! (a music producer), The Wedding Planner, Get Shorty, and Smokin' Aces.
On TV, Rocco starred on the short-lived 1975 family series Three for the Road and had sizable guest parts on The Mary Tyler Moore Show (in one episode as Lou Grant's old army buddy), The Rockford Files, The A-Team, Starsky & Hutch, Murder, She Wrote, Murphy Brown, and The Love Boat. He received an Emmy nomination for his regular supporting role on The Famous Teddy Z and recurred on The Facts of Life as Jo's ex-con father. Rocco lent his voice to several cartoons, notably The Simpsons as Itchy & Scratchy producer Roger Meyers Jr., as well as Pinky and the Brain, The Angry Beavers, and Family Guy and as Thorny in A Bug's Life.
External links