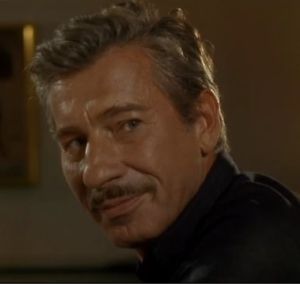 Alexander Allerson (b. 1930) is a German actor who voiced Carter in the German dub of Muppets Tonight. He also dubbed Clifford and provided announcer and archive material voices in the German dub of The Muppets Celebrate Jim Henson.
Allerson was a familiar face in German cinema and television from the 1960s onward, with films including one of the Jerry Cotton series, a principal role in Rainer Werner Fassbinder's Chinese Roulette (1976), and the infamous She-Devils of the SS. He often acted in international co-productions, including several English-language films. Some of the more notable include Battle of Britain (with Ian McShane and Michael Caine), The McKenzie Break (with Horst Janson), Who? (with Elliott Gould), The Odessa File (with Jon Voight), and Slaughterhouse-Five. In Italian cinema, he appeared in the 1970s Terence Hill/Bud Spencer vehicles All the Way Boys and My Name Is Nobody, while portraying a visiting count in the Israeli Lemon Popsicle movie Up Your Anchor (with Yosef Shiloah).
On television, Allerson made guest appearances on the Australian co-production The Outsiders, the CBS anthology Appointment with Destiny (narrated by James Mason, as one of several German actors in "The Plot to Kill Hitler"), and the BBC/ZDF co-production Paul Temple. German-language television included Das Kriminalmuseum, Der Kommissar, and Tatort.
As a voice actor, Allerson dubbed James Earl Jones in The Greatest, Alan Arkin in Escape from Sobibor, Leslie Nielsen in Nuts, and Robert Loggia in Revenge of the Pink Panther. He also dubbed multiple roles (including Nicholas Courtney as the Brigadier) in 1980s Doctor Who serials and guest actors on The Incredible Hulk and ALF. In cartoons, he dubbed Boss Hippo in Kimba the White Lion, various robots on Transformers, Governor Wetworth on The Snorks, and Kang in the first Simpsons "Treehouse of Horror" episode.
External links
Community content is available under
CC-BY-SA
unless otherwise noted.