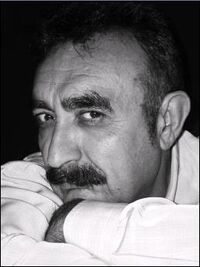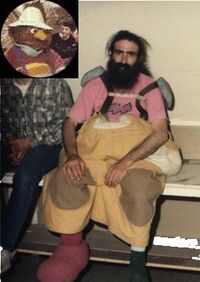 Alfonso Vallejo is a Spanish actor who played Don Pimpón on Barrio Sésamo, the Spanish co-production of Sesame Street from 1983 to 1987.
Vallejo began his acting career in José Luis García Sánchez's production Trout (1978). In 1981, Vallejo appeared on the Spanish TV series La Cometa Blanca. This series featured some Muppet sketches from the original Sesame Street. Vallejo also appeared on-screen with other actors that would later appear with him in Barrio Sésamo, mainly Mari Luz Olier and Ruth Gabriel (then known as Ruth Abellán). Vallejo appeared without any costume in this series. Vallejo played the role of Manolo, in the first season of Barrio sesamo in 1979.
In 1983, Vallejo was selected to play one of the monsters for the Spanish installment of Sesame Street. This series was given a chance in 1979, with other Spanish characters, but was not a success. Televisión Española decided to try again. Vallejo became Don Pimpón, a strange full-bodies monster who interacted with human characters and with fellow Muppet Espinete. Vallejo remained on the series until its cancellation in 1987
After Sésamo, Vallejo's career was far from ended. He found roles in both Vicente Aranda's El Lute: camina o revienta and Pedro Almodóvar's La ley del deseo. At the same time, he would appear in the TV series Los mundos de Yupi ("Yupi's worlds"), which was Televisión Española's replacement for Barrio Sésamo. His role on Yupi was that of Astrako, a human-like alien with fake nose and ears who was Yupi's friend and partner while he stayed in this strange world Earth.
Vallejo's career in the early 1990s was limited, with only an appearance in the mini-series Riders of the Dawn (1990) until 1995, when he appeared in several films, often with a certain international prestige, such as L'Enfant du mal (1995), En dag til i solen (1998) or Plenilune (1999). Quietly, Vallejo's character gained more and more importance: "Policeman #1", then "Commissioner", then "Landlord", then named roles such as "Germán" in Pídele cuentas al rey (1999).
He was more prominent on TV than on the big screen: although he managed to get roles in some big titles such as Pellet (2000) or At Full Gallop (2000), they were usually small nameless roles, but in TV series such as ¡Ala... Dina!, he became a regular cast member. In the following years, he managed to play some named roles in movies (Manolito Gafotas en ¡Mola ser jefe!, 2001; Sleeping Luck, 2003), and some guest appearances in important series such as El Comisario and Maneras de sobrevivir (where he plays the recurring guest role of Agapito).
In 2005, Vallejo appeared regularly on the sitcom Agitación + IVA as the main cast member Antonio Pérez.
Community content is available under
CC-BY-SA
unless otherwise noted.