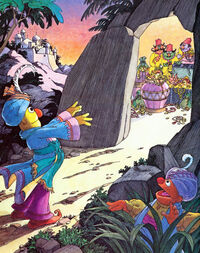 Ali Baba is the main character in "Ali Baba and the Forty Thieves," one of the most famous stories from The Book of One Thousand and One Nights. Despite its Middle Eastern origins, the story is classified by many as a fairy tale.
A Whatnot caricature of Marty Feldman plays Ali Baba on episode 518 of The Muppet Show. This character was performed by Dave Goelz.
Other versions of Ali Baba have appeared on Sesame Street. One appeared in a "Sesame Street News Flash" segment; another in a "Monsterpiece Theater" sketch.
On Germany's co-production Sesamstrasse, Ernie and Bert split the character and respectively assumed the roles of Ali and Baba for their short series Ernie & Bert Märchensongs in 2013.