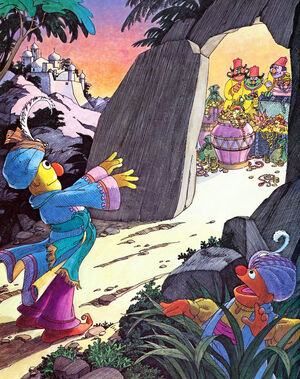 Ali Baba is the main character in "Ali Baba and the Forty Thieves," a story from One Thousand and One Nights. Added to the collection by the French translator Antoine Galland after learning it from the Syrian storyteller Hanna Diyab, the story has become one of the most famous fairy tales in the world.
One of the tale's most famous elements is the "Open Sesame" password that characters use to access the robbers' den. Sesame Street derives its name from the story. A 1969 promotional reel makes the connection explicit when Kermit the Frog proposes the name. Sesame Street's theme song also includes homages to the Nights in the lyrics: "It's a magic carpet ride / Every door will open wide."
A Whatnot caricature of Marty Feldman plays Ali Baba on episode 518 of The Muppet Show. This character was performed by Dave Goelz.
Other versions of Ali Baba have appeared on Sesame Street. One appeared in a "Sesame Street News Flash" segment; another in a "Monsterpiece Theater" sketch.
On Germany's co-production Sesamstrasse, Ernie and Bert split the character and respectively assumed the roles of Ali and Baba for their short series Ernie & Bert Märchensongs in 2013.
The Brothers Grimm collected a German variant of the "Ali Baba" story, "Simeli Mountain," in their collection of folk tales; this version of the story was adapted by the Muppets for the 2018 anthology Muppets Meet the Classics: Fairy Tales from the Brothers Grimm. This version of the story, "Two Brothers and a Mountain of Trouble," casts Fozzie Bear in the Ali Baba role, Rizzo the Rat as his brother, and Bobby Benson's Baby Band as the thieves.