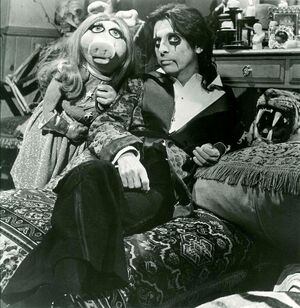 Alice Cooper (b. Vincent Furnier, 1948) is a shock rocker who has recorded more than two dozen studio albums, six of which have gone platinum.
He guest starred on The Muppet Show in episode 307 where he performed three of his hits: "Welcome to My Nightmare," "You and Me," and "School's Out." His dark, somewhat sinister persona served as the theme for the episode, which cast him as an agent of the Devil.
Steve Whitmire, who had started on The Muppet Show the same year, had built a puppet caricature of the rock star while in high school. Cooper signed it and posed for a photo with the puppet for the press. Decades later, Whitmire and Cooper reunited at a convention where the three posed together for a photo.[1]
References
Alice Cooper's song "I'm Eighteen" was spoofed in a Sesame Street animated segment in which the singer has eighteen sandwiches to choose from. (First: Episode 2859)
Sources
External links