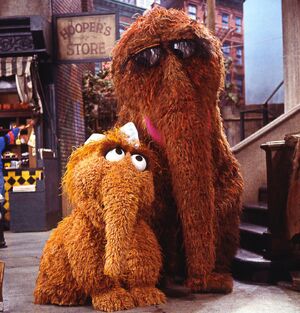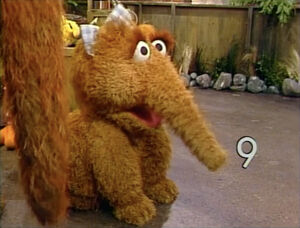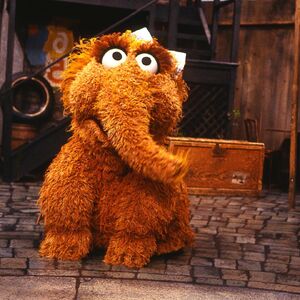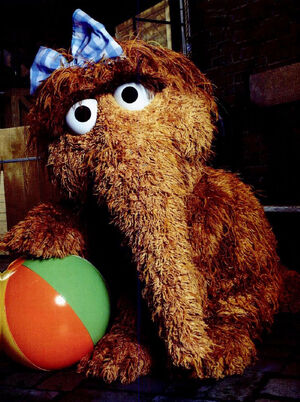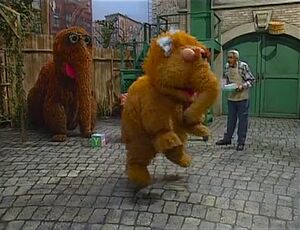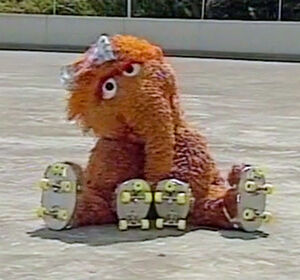 Alice Snuffleupagus is Snuffy's two-year-old sister, of the Snuffleupagus species. She is a lighter brown than Snuffy and wears a blue bow on her head. As a baby-upagus,[1] she is just starting to learn about the world. She also likes to do whatever her older brother does, including roller skate. Her birthday is December 21st.
Alice appeared on Sesame Street beginning in Season 19, first featured in Episode 2410 (1988),[2] and was seen through Season 31, making her last appearance in Episode 3874. Although she was dropped from the show following that season, she appeared in the 2002 "We Are Family" music video and continued to be seen with the cast on their Macy's Thanksgiving Day Parade float through 2008.
Behind the Scenes
The Alice puppet is much smaller than Snuffy and is operated by a single puppeteer. Her eyes and mouth are controlled from inside the puppet. The performer wears a bodysuit with straps and buckles, that attaches to the inside of Alice's body. The suit is too small for the performer to wear the chest-mounted TV monitors that other full-body characters wear to watch their performance during the take. Between takes, an assistant can fan the performer's face, through the mouth. Her eyes are controlled by remote control, a first for the series.[3]
A younger sibling for Snuffy was initially pitched in 1978, where Snuffy would've had a bipedal, younger brother.
A 1987 article in New York Magazine about the upcoming season of Sesame Street focused on Sladky's first screen test as Alice. The article offers a behind-the-scenes look at the process of creating Alice, as well as the producers' hopes for the character's popularity:
Filmography
Episodic appearances
Book appearances
Character Merchandise
Sources
↑

SesameStreet.org Trivia Game

↑ The Ithaca Journal (Ithaca, New York) January 13, 1988
↑ Hellman, Peter. "Street Smart." New York Magazine. November 23, 1987.