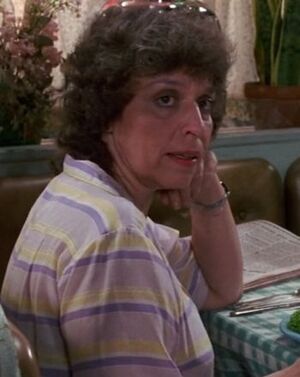 Alice Spivak (b. 1935) is an actress who appeared in The Muppets Take Manhattan as the customer at Pete's who receives a meatless hamburger from Rizzo.
Acting since the 1950s, Spivak has also been an acting teacher and dialogue coach. Film credits include Woody Allen's Stardust Memories, Garbo Talks (with Anne Bancroft), See No Evil, Hear No Evil (with Gene Wilder and Richard Pryor), Times Square (with Tim Curry), and Before the Devil Knows You're Dead (with Ethan Hawke).
Spivak has also performed off-Broadway. On TV, she was a semi-regular on the courtroom drama 100 Centre Street (2001-2002, as bailiff Naomi) and appeared on the Law & Order franchise, The Americans, and Sex and the City.
External links