PERFORMER
various
DEBUT
1980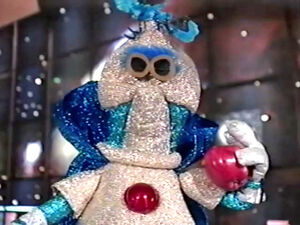 The aliens first appeared on episode 416 of The Muppet Show, in which the pair hatched from a meteor that has crash landed in the backstage of The Muppet Theatre. They were performed in this appearance by Frank Oz and Dave Goelz.
They appeared in episode 101 of The Jim Henson Hour as background characters and later performed by Drew Massey and Victor Yerrid in episode 15 of From the Balcony.
One of the puppets was used as Norberta (with a font of blue, curly hair) in the home video Things That Fly. Here, the aliens' home planet is named in her native tongue; it's mostly indiscernible in English, but Commander Slick Space Guy's directions from Earth dictate taking a right at Neptune and a quick left at Venus. When Norberta's mom picks her up in a Ford Falcon, her license plate is SPACE MOM with a bumper sticker that reads "I ❤ Mars".
While blinking eyes on a Muppet are already unusual, the alien puppets go one step further by having eyes that blink side-to-side.
Palisades Toys considered including a figurine likeness of the aliens in an Accessory Pack for the Pigs in Space Playset. Neither the Accessory Pack nor the figures were ever produced.
They appeared in The Muppet Show Comic Book: Pigs in Space.
Mopatop's Shop
The puppets were used in various roles on Mopatop's Shop.
See also