Premiere
March 15, 1996
Finale
August 31, 1996
Network
ABC
Seasons
1
Episodes
8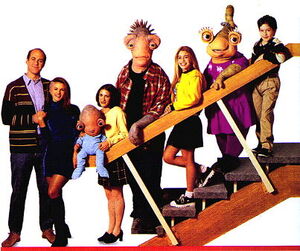 Aliens in the Family was a half-hour sitcom that aired on ABC in 1996. The show used puppets made by Jim Henson's Creature Shop.
The show focused on the Brodys, a mixed family consisting of Earthling Doug, his alien wife Cookie, and the children from their respective previous marriages. Doug had a daughter, Heather, and a son, Adam. Cookie had a daughter named Snizzy, a teenage son named Spit, and a baby son named Bobut, who harbored plans for intergalactic domination and an affinity for pudding. Rounding out the cast was Sally, Bobut's hapless nanny.
Puppeteer credits include Alice Dinnean, John Kennedy, Bruce Lanoil, Peter Linz, Joey Mazzarino and David Rudman.
On the week before this show premiered, the cast of this show hosted TGIF to promote this show.
Kirk R. Thatcher -- character design

Janet Evaschuk

Matt J. Britton

Mae Canaga

Jim Edson
Episodes
Trivia