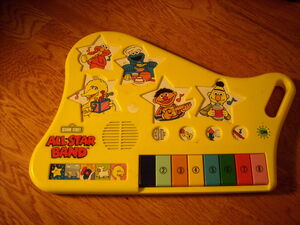 All-Star Band is a 1991 Sesame Street musical electric orchestra toy made by Golden. The toy comes with twenty-six musical phrases and sound effects. It included pre-programmed songs and a color-coded keyboard. The buttons, consisting of Big Bird, Cookie Monster, Bert, Ernie and Elmo playing musical instruments, comes in different sounds:
Big Bird's star: He's cranking melodies on his hurdy-gurdy.
Cookie Monster's star: He's tapping tunes on his musical pots and pans.
Bert's star: He's blowing bass notes with his bottle.
Ernie's star: He's strumming along on his wacky wa-wa guitar.
Elmo's star: He's tooting tunes on his toy trumpet.
Big Bird's square: He'll say "Oh...boy! Great!"
A sound effect will come by anytime by touching a circle.