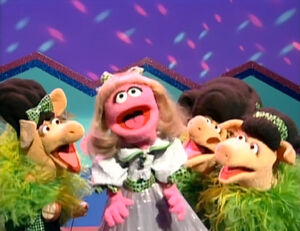 "All By Myself" was performed by Prairie Dawn on Sesame Street. It is a song about all the things she can do on her own now that she's six years old. She is backed up by three monsters, namely Maurice Monster, Bruce, and an early Elmo.
In 2001, she sang it again with The Oinker Sisters. (First: Episode 3968)
Notes
The original version was directed by Jon Stone and was taped on February 1, 1983. The remake, adapted by Molly Boylan, was directed by Steve Feldman and was taped on December 21, 2000.[1]
Releases
Audio
Video
Online
Publications
See also
Sources