Written by
Adam Anders
Peer Astrom
Piero Umilani
Date
2012
Source
Cee Lo's Magic Moment
Publisher
adamanders music
Masterplan Music
Edward B. Marks Music Company
Mad Muppet Melodies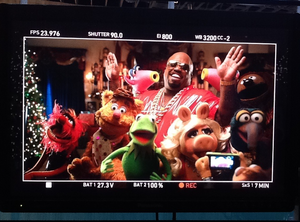 "All I Need is Love," from Cee Lo Green's Christmas album Cee Lo's Magic Moment, is an original song performed by Green and the Muppets. The track samples the song "Mah Na Mah Na" performed by the Snowths and includes original vocals by Cee Lo Green, Kermit the Frog, Miss Piggy, Fozzie Bear, Gonzo, Pepe the King Prawn, and Animal. The track concludes with a comment from Statler and Waldorf.
The Muppets performed the song with Green in his live Las Vegas show on October 10, 2012,[1] which was televised on November 30. They also performed the song on Good Morning America on November 27 and on Christmas in Rockefeller Center on November 28. In the former appearance, Lo-Co stood in for Cee Lo.
An online preview of the track was released on theboombox.com on October 22, 2012.[2]
Music Video
The music video for the song was recorded October 11–13, 2012[3] and debuted on YouTube on November 26, 2012. In the video, Cee Lo's car breaks down in front of a house where the Muppets are having a Christmas party. He joins them and performs the song with them, while Walter uses his phone to record Santa Claus' (portrayed by Craig Robinson) arrival. Also appearing is Lo-Co, a Muppet caricature of Cee Lo.
Human Cast
Muppet Characters (in order of appearance)
Muppet Performers
Additional Credits
Directed by: Marc Klasfeld
Executive Producer: Nicole Acacio
The Muppet Workshop: Jane Gootnick (supervisor), Scott Johnson, Alex "Jurgen" Ferguson
Special Thanks To: Jim Lewis and PuppetHeap
Sources
Community content is available under
CC-BY-SA
unless otherwise noted.