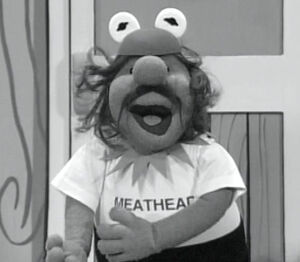 All in the Family was an initially controversial but long-running CBS sitcom, created by Norman Lear. It focused on the bigoted, uninformed Archie Bunker and his clashes with his family and neighbors (many of whom represented the very groups he despised). The series ran from 1971 until 1979, and was then reworked as Archie Bunker's Place (with wife Edith written out as having died at the start of the second season) until 1983. The series also launched many spin-offs (and spin-offs of spin-offs), notably The Jeffersons, Maude, and the short-lived Gloria.
Muppet Mentions
In the seventh season episode "Archie's Chair" (1977), Mike and Edith are going into the living room.
Mike: Ma, do you have any coffee? And Ma, do you mind if I drink it in the living room? I gotta catch Sesame Street.
Edith: I thought that was for little kids!
In the eight season episode "Super Bowl Sunday" (1978), two hold up men rob Archie's bar. One accosts buxom waitress "Boom Boom," pointing to her cleavage and saying he thought he saw something green: "Whaddaya got, one of the Muppets in there?"
References
Rob Reiner, who played Mike Stivic (referred to by Archie Bunker as "Meathead") was caricatured twice on Muppets Tonight In episode 103, a Rob Reiner Muppet conducts screen tests for When Harry Met Sally with Billy Crystal. Referring to his transition from sitcom actor to director, the Muppet complains "And the next one that calls me 'Meathead' is gonna get it!"
Connections
See also
Community content is available under
CC-BY-SA
unless otherwise noted.