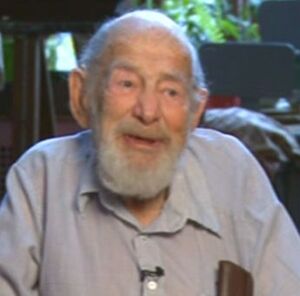 Allen Swift (1924-2010) was a New York-based voice actor who was heard in Jim Henson's ad campaign for Mirinda orange soda, as the post-dubbed voice of the Mirinda Craver and other characters in the spots.
He was also heard in several 1970s animated Sesame Street inserts, including "Melvin the Moving Man" (First: Episode 0207), as various alley cats who learn about harmony (First: Episode 0926), and as a giggling man presenting the letter G (First: Episode 0357).
Swift was born Ira Stadlen but took his professional name from his two favorite satirists, radio star Fred Allen and Gulliver's Travels author Jonathan Swift. A versatile dialectician and impressionist, Swift's earliest voice work was on the live puppet series Howdy Doody in 1949 until roughly 1956 (replacing Dayton Allen). Swift played nearly all the puppet characters, including the ill-tempered mayor Phineas J. Bluster; incompetent detective Inspector John J. Fadoozle; salty sea captain Windy Scuttlebutt; and, for a time, the voice of Howdy Doody himself, while host "Buffalo Bob" Smith was ill. He also appeared on-camera on the series, in such roles as a French painter. Swift continued his association with kiddie programs, providing the voices of assorted fish and the title character on the puppet series Diver Dan before landing his own local TV berth as "Captain" Allen Swift, hosting a block of Popeye cartoons. This led to Swift playing himself and Popeye on records, and filling in for Jack Mercer in the occasional commercial.
His major cartoon voice work began in the 1960s, however. For Total TV's King Leonardo and His Short Subjects, Swift played Odie Cologne (in a subdued Ronald Colman impression), Itchy Brother, and the hapless Tooter Turtle ("Help, Mr. Wizard!") On Underdog, Swift played most of the villains, notably the mad scientist Simon Bar Sinister (in a Lionel Barrymore imitation), the gangster Riff Raff, and an assortment of alien invaders. For Rankin/Bass, he provided all of the male voices (save Boris Karloff) in their feature film Mad Monster Party? (including Dracula, the Invisible Man, and grunting as Frankenstein's Monster) and was heard in many TV specials. In the 1970s, he dubbed narration and voices for The Barbapppas.
Swift also collaborated with animator Gene Deitch on a wide range of shorts(Clint Clobber and Gaston LeCrayon in Terrytoons, and all voices in the Czechoslovakian-produced Tom and Jerry shorts). Other career highlights include dubbing the voice of General Dwight D. Eisenhower to an on-camera impersonator in the classic live action war film The Longest Day. In commercials, Swift gave voice to the Frito Bandito (though the main voice was Mel Blanc), the Burger King, the Vita Herring Maven, a peanut in M&M ads, and was heard in Clio Award-winning TV and radio spots for products as varied as Nair, Pan American Airways, and French's Dog Gravy. Some of his later credits included guest roles on Law & Order and voices on the John R. Dilworth series Courage the Cowardly Dog.
Sesame Street voiceography
External links
Community content is available under
CC-BY-SA
unless otherwise noted.