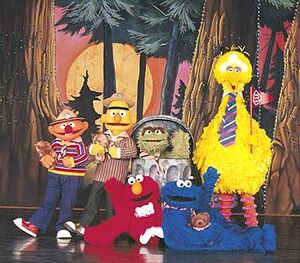 Als Ik Later Groot Ben was the first Dutch Sesamstraat Theater show which premiered in 2001. It was a translation of the American Sesame Street Live show When I Grow Up.
The people from Sesamstraat are fantasizing about what everybody on Sesame Street wants to be when they grow up. The whole cast is featured in big song and dance numbers about their dream jobs.
Betty Lou wants to be an astronaut, Grover wants to be a policeman, Bert and Ernie choose forest rangers. Telly Monster wants to be a soccer player, although the Count counts 700 strikes before Telly shoots the ball. Cookie Monster wants to be a cook, and open the world's first drive-in cookie restaurant. Elmo starts out wanting to be a cowboy, but as he sees everyone else's choices, he wants to be everything at once.
Oscar the Grouch refuses to participate.
Neef Jan isn't sure about what he wants to be. In the end, Prairie Dawn makes Neef Jan the director.
From 27 April 2001 - 13 May 2001, this show was dubbed and performed in The Netherlands for Sesamstraat's 25th anniversary.
Cast
Neef Jan, Oscar, Grundgetta Grundgetta, Grover,Cookie Monster, Bert, Ernie,Elmo, Zoe, Rosita, Count von Count, Telly, Miesje, Roxie Marie, and a Honker.
Crew
VEE Corporation, producer
Cheryl Baxter, director
Nancy Sans, script
Community content is available under
CC-BY-SA
unless otherwise noted.