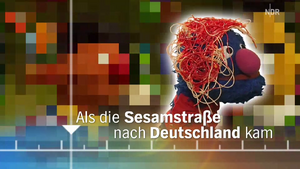 Als die Sesamstaße nach Deutschland kam ("When Sesame Street Came to Germany") is a 45-minute documentary about Sesame Street and its German co-production Sesamstrasse by Grit Fischer and Maik Gizinski. It first aired as part of the Unsere Geschichte (Our History) series on January 1, 2013 on NDR.
The TV special technically debuted in a special preview stream online on December 28, 2012. It is still currently available online at NDR.de - Unsere Geschichte: Als die Sesamstraße ins deutsche TV kam.
Included are interviews with key players of both countries' productions and German guest stars, chronicling the shows' history, and a behind-the-scenes look into the filming of Sesamstrasse's special 40th Anniversary Episode.
Credits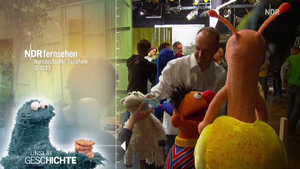 A film by: Grit Fischer and Maik Gizinski
Editor: Philine Bohmann
Camera: Andreas Färber, Stefan Söffgen, André Bacher
Narration: Stephan Schad
Sound Editing: Gero von Gerlach
Graphics: Kay Penndorf, Pascale Guillon
Image Engineering: Arne Kühl
Executive Producer: Michael Schinschke
Line Producer: Olav Jacobs
External links