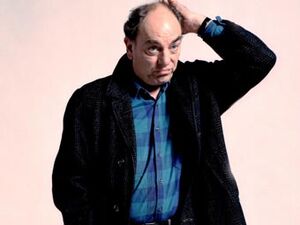 Alan Armstrong (b. 1946) is a craggy British actor who supplied the voice of The Troll in The StoryTeller episode "The True Bride."
Like many British character actors, Armstrong has been a frequent performer in adaptations of Charles Dickens. His association with the Victorian novelist began with the Royal Shakespeare Company's stage adaptation of The Life and Adventures of Nicholas Nickleby, playing the dual roles of cruel schoolmaster Wackford Squeers and Mr. Wagstaff in both the original London run and the 1981-1982 Broadway version. Armstrong reprised the role of Squeers in a 1982 TV production, and in 1999, would appear in BBC versions of Oliver Twist (in a small role as Mr. Fleming), and David Copperfield (in a key role as good-hearted Dan Peggoty). According to press reports, Armstrong refused a part in a Clint Eastwood film to take the latter role, owing to his fondness for Dickens. He returned to Oliver Twist in Roman Polanski's 2005 version, as the bitter Magistrate Fang, and the same year, starred as Inspector Bucket in the acclaimed serial adaptation of Bleak House.
Outside of Dickens, Armstrong's roles range from Thenardier in the West End version of the musical Les Misérables to parts in big-budget Hollywood action films like Sleepy Hollow (the high constable), The Mummy Returns (as a museum curator), and Van Helsing (Cardinal Jinette). Other movie credits include Black Beauty, Braveheart (with Mel Gibson), and the 2006 fantasy film Eragon.
External links
Community content is available under
CC-BY-SA
unless otherwise noted.