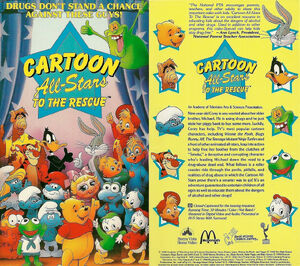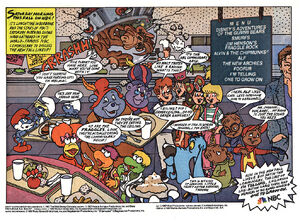 Alvin and the Chipmunks (Alvin, Simon, and Theodore; sometimes known as The Chipmunks) were created by Ross Bagdasarian (a.k.a. David Seville) in the 1950s and became popular with novelty recordings such as The Chipmunk Song (Christmas Don't Be Late). Once established as recording stars, the trio appeared on The Ed Sullivan Show as puppet figures. The puppets were built by Bob Clampett, an early influence on Jim Henson.
Alvin and the Chipmunks later appeared as animated characters on television, first with The Alvin Show in the 1960s, and then again in the 1980s. In 1990, they appeared with Baby Kermit, Baby Piggy, and Baby Gonzo in the television special Cartoon All-Stars to the Rescue.
References
Muppet Mentions
On the Chipmunks in Low Places album, before the track "Stand by Your Man," Brittany accuses Alvin of winking at Miss Piggy.
Connections
Community content is available under
CC-BY-SA
unless otherwise noted.