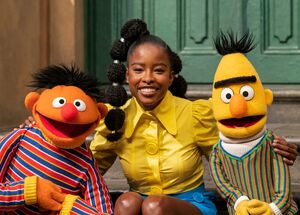 Amanda Gorman (b. 1998) is a poet and social reform activist in the areas of race and feminism. In 2017, she was named the first National Youth Poet Laureate, was highlighted in Time magazine's "100 Next" in 2021, and delivered her poem "The Hill We Climb" at the inauguration of U.S. President Joe Biden.
Gorman appears on Sesame Street in Episode 5220 helping to write a poem about friendship. She also recorded a "Word of the Day" web video released in March 2022, explaining the word "upstander."
She also features in the Netflix series We the People (with Lin-Manuel Miranda and Janelle Monáe) and the PBS "Talk About" special on "Race & Racism."