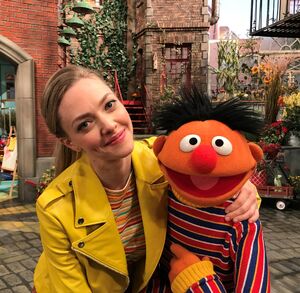 Amanda Seyfried (b. 1985) is an actress who got her start in front of the camera at the age of 15 with recurring roles on the soap operas As the World Turns and All My Children.
In 2018, she appeared as Natalie Neptune, Abby's favorite storybook detective brought to life, in the Sesame Street special When You Wish Upon a Pickle.
Seyfried's film credits include Mean Girls (written by Tina Fey), Mamma Mia! (with Meryl Streep and Pierce Brosnan), Jennifer's Body (with Amy Sedaris), the thriller Chloe (with Julianne Moore and Liam Neeson), the 2012 version of Les Misérables (with Hugh Jackman and Anne Hathaway), and A Million Ways to Die in the West (with Charlize Theron and Neil Patrick Harris). TV appearances include Veronica Mars (with Kristen Bell) and House (with Hugh Laurie), and voiceovers for Family Guy, American Dad! and Cosmos: A Spacetime Odyssey (with Neil deGrasse Tyson).
Community content is available under
CC-BY-SA
unless otherwise noted.