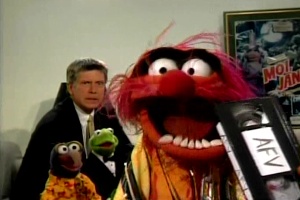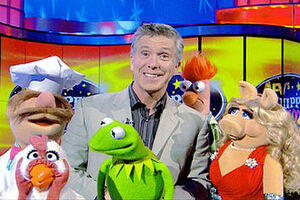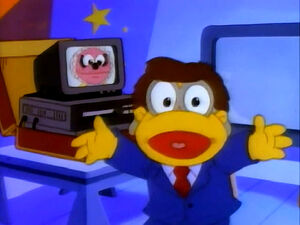 America's Funniest Home Videos is a television show that airs on ABC. The show has been hosted by Bob Saget (1989-1997), Tom Bergeron (2001-2015), and Alfonso Ribeiro. For most of Saget's tenure, the announcer was Ernie Anderson.
In the summer of 1996, Muppets Tonight was shown before America's Funniest Home Videos on Sunday nights, and a promo was produced featuring original host Bob Saget and Fozzie Bear.
Appearances
May 2001 -- Kermit the Frog
May 8, 2005 -- Kermit, Miss Piggy, Animal, Fozzie Bear, Gonzo, Pepe the King Prawn, penguins, Statler and Waldorf appeared on the show to promote The Muppets' Wizard of Oz.
January 10, 2010 -- Kermit, Miss Piggy, The Swedish Chef, Bunsen, Beaker, Pepe, chickens and The Electric Mayhem Band
References
In a taped presentation for promotion for the new series Muppets Tonight, Gonzo suggested a surefire alternative: "Roseanne's Funniest Home Improvements, She Wrote."[1]
In the Dinosaurs episode "Family Challenge," the Sinclairs watched Pangaea's Funniest Home Injuries, which was followed by Pangaea's 2nd Funniest Home Injuries (a reference to America's Funniest People, a similar show which followed America's Funniest Home Videos).
In 2011's The Muppets, the show is referenced on the schedule of CDE (spoofing ABC) as "Have Camera, Will Travel."
Muppet Mentions
The January 5, 2020 show featured a montage showcasing the "What the Fluff?" challenge to a recording of "Mah Na Mah Na."
Sources
External links