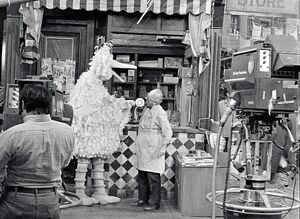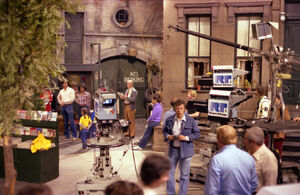 The American Archive of Public Broadcasting (AAPB) is a collaboration between the Library of Congress and the WGBH Educational Foundation, founded through efforts made by the Corporation for Public Broadcasting. According to its mission statement, AAPB "seeks to preserve and make accessible significant historical content created by public media, and to coordinate a national effort to save at-risk public media before its content is lost to posterity."[1]
In February of 2019, the Library of Congress announced that AAPB would partner with Sesame Workshop to "preserve 50 years of Sesame Street for posterity" with an archive of nearly 4,500 episodes from the first 49 seasons of the show. The collection will available to view by the public for academic research on location at the Library of Congress in Washington, D.C. and by appointment at WGBH in Boston.[2] The archive became available not long after the collection was announced, beginning with the most recent seasons and moving backward to the earlier seasons throughout the following months.
Librarian of Congress Carla Hayden touted Sesame Street as a "key part of our national educational, television and public broadcasting landscape", while Kathryn Ostrofsky (author of the forthcoming book Sounding It Out: How Sesame Street Crafted American Culture) called the archive "a critical resource for studying and understanding so many facets of...societal changes" related to "the pressing issues of the times, as well as changing views about education".[2]
Sources
External links
Community content is available under
CC-BY-SA
unless otherwise noted.