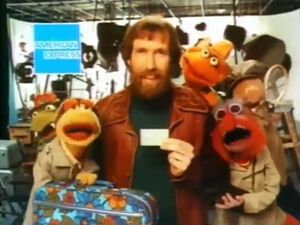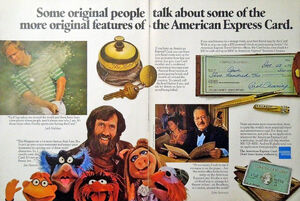 American Express is a global finance company best known for their credit business.
In 1977,[1] Jim Henson appeared in a commercial for the company with the Green Frackle, Nigel, Floyd, Scooter, a Muppet pig, and Zoot.[2] He speaks to the audience from a faux production set, and articulates that people know the Muppets, but not him. That's why he carries an American Express card with him when he travels -- it's backed by hundreds of offices around the world. The ad, playing on the card-holder's combination of celebrity and anonymity, was similar to a 1975 spot starring Mel Blanc.
A shorter ad featuring the same characters, plus Mahna Mahna and a female Whatnot was also filmed.
The commercial features the familiar shot of the cardholder's name being typed out on the card, as seen in so many other advertisements for the company at the time. Likewise, the famous tagline "Don't leave home without it" closes the commercial. He signed an affidavit confirming his on-screen statements about his credit card use were true.[1]
It was filmed on February 11 of that year, at a East 95th Street studio, according to Jim Henson's Red Book; Richard Hunt, Jerry Nelson, Dave Goelz, John Lovelady and Frank Oz were the puppeteers. A pre-production meeting was held the day before.[1] Two more commercials with Jim Henson were filmed in 1979: a 10-second ad featuring Jim and a Muppet waiter (filmed on July 21) and a 30-second ad where Jim dines with the Muppets and is left with the check.[3]
On August 8, 2008, a new commercial began airing featuring footage from old American Express commercials, including Jim Henson, Robert De Niro, John Cleese and Ellen DeGeneres.[4]
On February 8, 2015, American Express started airing another commercial featuring archive footage including footage from the Jim Henson commercial, and others, this time advertising for Apple Pay combined with the timeless security of American Express.[5]
American Express also filmed a spot with Joan Ganz Cooney: "Do you know me? I launched some of the most famous shows on TV. Still, no one knows my F-A-C-E. But, the American Express card can change that. Because far away, or even on my favorite street, this spells out who I am." The commercial ends with Cooney walking down Sesame Street holding Big Bird's hand and waving to the kids.
Small Business Saturday
For their "Small Business Saturday" campaign taking place on November 28, 2015, American Express produced a series of ads in the style of public service announcements, featuring some of The Muppets main characters, including Miss Piggy, Fozzie Bear, Scooter, Janice, Animal, Floyd Pepper and Uncle Deadly.
References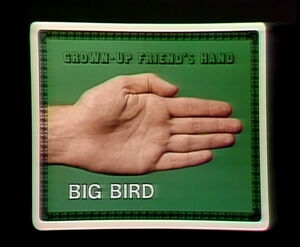 Sesame Street parodied American Express' "Do you know me?/Don't leave home without it" ad campaign in season 13 with a series of skits promoting the idea of children holding an adult's hand while crossing the street, with the Muppet characters holding a "grown-up friend's hand." Three skits were produced: Forgetful Jones with Olivia (as the grown-up friend) (First: Episode 1605); Bert and Ernie with Gordon (First: Episode 1640); and Big Bird with Bob (First: Episode 1595). Each skit ended with their names embossed at the bottom of a credit card resembling an American Express card, with a big human hand in the middle and the names of those involved in the skit typed at the bottom; a voice over stated, "A Grown-Up Friend's Hand. Don't cross the street without it."
Kermit notes a variation of the company's tagline in The Muppets at Walt Disney World when he offers to pay for admission to the park with his credit card. "Unfortunately I left home without it." 
Baby Gonzo parodies this commercial campaign with the "Weirdo Express Card" with the tagline, "Don't leave your brains at home without it" at the end of the Muppet Babies episode "The Weirdo Zone".
Sources