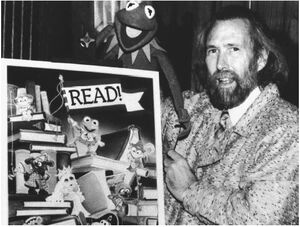 The American Library Association was founded in 1876 and based in Chicago, Illinois. The oldest and largest library education and promotion association in the world, they have featured the Muppets in many advertising campaigns over the years.
In a 1980 campaign, Kermit the Frog and Miss Piggy were pictured browsing in a library. The image was later used on a bookplate sticker. The Muppet Babies appeared on a READ campaign in 1986. Another READ campaign in 1992 pictured Miss Piggy as Cleopatra.
In 1997, a campaign featuring poster and bookmarks was launched under the title, "Building a Nation of Readers". The promotion featured Kermit, Miss Piggy and Rizzo the Rat building a house of books.[1]
References
See also
Sources
External links