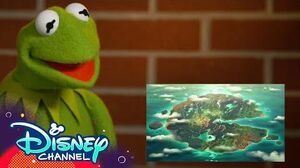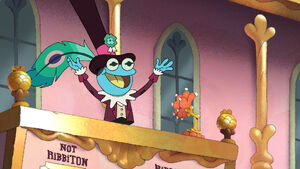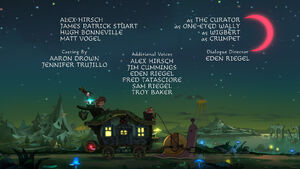 Amphibia is an animated series that premiered on Disney Channel in 2019. The series centers around a teenage girl named Anne and her adventures in another world populated by frogs.
In July 2019, Disney Channel's YouTube channel published two videos pertaining to the series featuring Kermit the Frog. In one video, he reacts to the series' intro sequence. In another, he appears as the "unofficial frog consultant" for the series. (YouTube)
Kermit also hosted a Q&A panel for the series (and another Disney series Big City Greens) at the 2019 D23 Expo on August 24. During the panel, Kermit accidentally opened the "calamity box" from the series and was sent into the world of Amphibia (shown on the video monitors).
Kermit guest starred in the show's second season,[1] portraying the character of "Crumpet the Frog" in the episode "Swamp and Sensibility" which aired on August 8, 2020.[2] The character bears a strong resemblance to Kermit, including his eyes and collar. He also uses his own variation of Kermit's catchphrase, "Hi-ho, Crumpet the Frog here," and references "Bein' Green" with the line, "let's keep this game cool and friendly-like." Unlike Fozzie Bear's role on Big City Greens, Kermit did not receive on-screen credit for voicing Crumpet; rather, Matt Vogel did. However, the stunt was advertised as a guest role for Kermit in press materials and on the Disney Channel's YouTube channel. (YouTube)
According to creator Matt Braly, The Dark Crystal was an inspiration for the series' visuals.[3]
Connections
See also
Sources
Community content is available under
CC-BY-SA
unless otherwise noted.