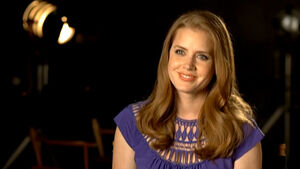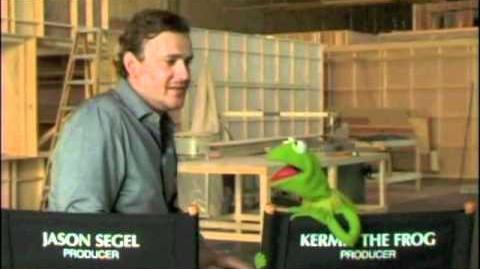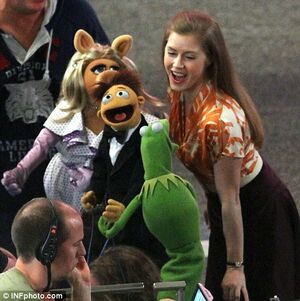 Amy Adams (b. 1974) is an American actress and singer, whose breakthrough role was an Academy Award-nominated performance in the film Junebug.
In The Muppets, Adams plays Mary, a school teacher from Smalltown, USA. Together with her fiancé Gary and his brother Walter, the three reunite the Muppets for a big show, to save The Muppet Theatre.
Adams told The Huffington Post that she was invited to appear in the movie by Segel and Kermit the Frog: "This is something I grew up with and was in love with. When I heard they were doing a new one I was really excited. Jason sent me a DVD where he and Kermit were inviting me to be part of The Muppets. It was really cool. Once Kermit asks you to do something it is really hard to look at him and say, 'No.' So I was hooked!"[1]
Segel says that the role was written with Adams in mind:
"

I wrote it for her. She was in my mind from the beginning. I mean this woman can do anything. But she's able to do this wide-eyed naivety that is not part of her personality in real life. She's one of the most smart, on top of it women I've ever met. But she can do this kind of thing that was really... my character, her character, and Walter are true innocence. She's able to do that. She channels it through her eyes, and she can sing. She is totally game. She's up for it. She also really gets the joke. So she was just the perfect choice right from the start. I don't know what I would have done if we hadn't gotten her.[1]

"
In the film, Mary sings "Life's a Happy Song" with Gary and Walter, but she also gets a duet with Miss Piggy, each part performed separately as they focus on their individual characters. Seven years later, Adams still holds "Me Party" as a prominent memory of her career, referencing it in passing during a December 19, 2018 appearance on Late Night with Seth Meyers.[2]
Adams also puppeteered Camilla the Chicken and Sam the Eagle while also acting in the crowded car scenes of the film.[3]
Adams also appeared in Season 42 of Sesame Street, presenting the word "Ingredient" with Elmo as The Word of the Day. (First: Episode 4271)
Her other roles include the lead in Disney's Enchanted, Amelia Earhart in Night at the Museum: Battle of the Smithsonian, Academy Award-nominated performances in Doubt and The Fighter, playing Julie opposite Meryl Streep in Julie and Julia, Lois Lane in Man of Steel, and opposite Christoph Waltz in the Tim Burton film Big Eyes.
References
Adams appeared as a guest on the March 8, 2008 episode of Saturday Night Live. The episode featured a skit with cast member Kristen Wiig's character Penelope, who has a habit of one-upping the people around her. Amy Adams' character is a traffic school teacher who finally gets fed up with student Penelope and says, "You know what, Penelope? I have had enough... I guess now's a good time to tell everyone I'm friends with Kermit the Frog. What do you think of that?" Penelope responds, "Um, guess I'll say that, um, I'm best friends with all Muppets. Including Scooter, so, I was invited to all of their weddings, so..."
Sources
↑ 1.0 1.1 "Jason Segel, Amy Adams Talk The Muppets, Kermit Invitation", The Huffington Post. June 21, 2011.