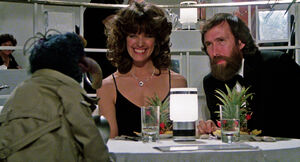 Amy Van Gilder was one of the earliest designers in the NY Muppet Workshop, hired during the first season of The Muppet Show. She left Henson for a time in the early 1980s to start a family, but returned to work on Muppets Tonight. She also had a cameo alongside Jim Henson in The Great Muppet Caper, as a patron of The Dubonnet Club.
She was later hired by The Walt Disney Company in the Imagineering Department, where she currently helps with integrating the newly acquired Muppets property into their theme parks. Her achievements there include design and theming concepts for Lucky the Dinosaur, the first in a series of free-roving Audio-Animatronics in Disney's Living Character Initiative, which would later include the Muppet Mobile Labs.
Amy Van Gilder's children are journalist Sonia van Gilder Cooke and photographer Bartholomew Cooke . Sonia van Gilder Cooke mentioned her mother as her "role model" in an interview with The Sunday Times of London.
Design credits
External links