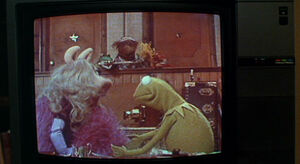 An American Werewolf in London is a 1981 film directed by John Landis, in which two young American men are brutally attacked by werewolves while visiting England, resulting in the death of one and the lycanthropic transformation of the other.
A scene from episode 508 of The Muppet Show is used during a nightmare sequence of the David character, who is going through the changes. In the dream sequence, his family is shown watching the UK Spot in which Miss Piggy complains to Kermit that her act has been replaced by a puppet show. The family's Muppet enjoyment is curtailed by a sudden, bloody slaughter at the hands of anthropomorphic werewolf Nazis.
Frank Oz has a cameo as Mr. Collins, a representative of the US embassy who visits David in the hospital. Miss Piggy and Kermit the Frog are credited in the film as themselves for their aforementioned appearance. Beauregard, however, remains unbilled for both his own performance and his manipulation of the puppets, suggesting that Bernie may have pulled a few strings for the stars but not for the janitor.
Trivia
In the book, No Strings Attached, the film is cited as a predecessor to the work of Jim Henson's Creature Shop, according to John Stephenson:
"

Everyone sets it (The Dark Crystal) up as being a sort of mile-stone, and it was in a way, but you have to bear in mind that Star Wars and American Werewolf in London, which were both make-up and effects films, had already happened.

"