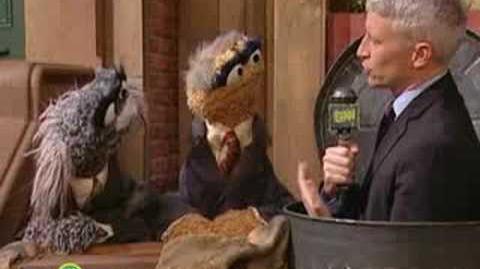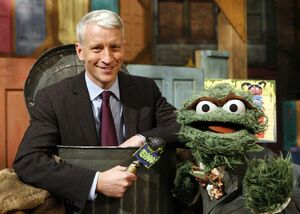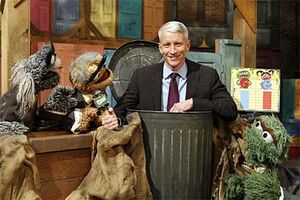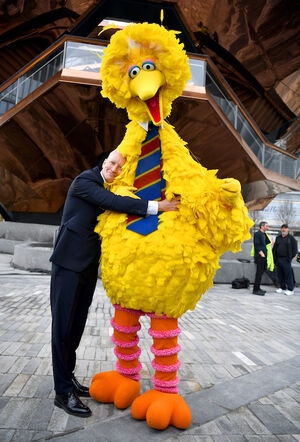 Anderson Cooper (b. 1967) is a television news journalist for the cable/satellite news network CNN and host of his syndicated talk show Anderson. Cooper began his news reporting career on Channel One News, which is broadcast in school classrooms. He gained some measure of fame as the host of the reality show The Mole.
Cooper moved to CNN in 2002, and in 2003 began hosting a nightly program, Anderson Cooper 360. In 2005, he was recognized for his powerful coverage of the damage caused by Hurricane Katrina, as well as the famine in Niger.
In 2007, Cooper appeared in Season 38 of Sesame Street in an insert featuring the characters Walter Cranky, Dan Rather-not and Oscar the Grouch. A preview of Cooper in this segment was aired on 360.
Cooper also interviewed Kermit the Frog, as a guest host with Kelly Ripa on Live with Regis and Kelly, on December 8, 2006, and co-hosted a Sesame Workshop benefit with the Muppets in 2008.[1]
In November 2009, Oscar the Grouch appeared on his show.
Season 41 of Sesame Street included a street scene with Anderson Cucumber, reporting for VNN, Vegetable News Network. The character also appears in Spaghetti Space Chase, a ride at Universal Studios Singapore.
On March 15, 2012, Miss Piggy made an appearance on his talk show Anderson to promote The Muppets home video release. In the same year, Anderson appeared on stage with Oscar the Grouch during the 39th Annual Daytime Emmy Awards.
On March 15, 2019, Cooper and Big Bird participated on stage at the opening event of New York City's Hudson Yards neighborhood.
Sources
External links