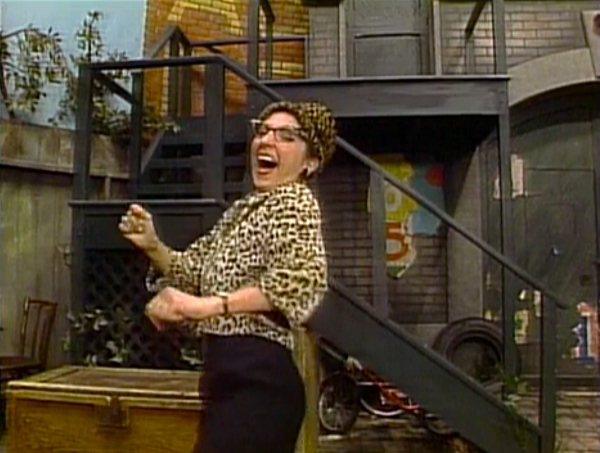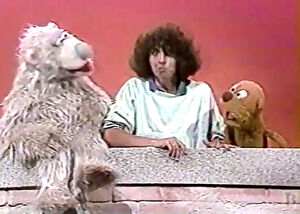 Andrea Martin (b. 1947) is an actress and comedian best known for her many characters on SCTV, notably Edith Prickley and Mrs. Falbo, and was more recently seen in the film version of The Producers.
Andrea Martin has appeared on Sesame Street in various capacities over the years. She guest starred as Edith Prickley for an episode in which Edith, as a shoe salesman, in which she helps Maria and Grundgetta buy a pair of shoes. During the story, she performs "Three of These Things Belong Together," with three pairs of boots and a pair of maroon shoes.
Martin as Edith was also Telly Monster's Fairy Godmonster in a late 1980s episode, in which she gives him a magic pencil. Edith would also appear, singing, in the celebrity-filled version of "Put Down the Duckie".
Martin also guest starred on Canadian Sesame Street in 1987.
Beginning in the early 1990s, Martin was featured regularly as "Wanda Falbo (Word Fairy)" in a series of sketches.
She was also featured on "Elmo's World" as the voice of the Lecture Lady, featured on Elmo's TV. The Lecture Lady was modeled after Edith Prickley in some of her initial appearances.
In season 35 of Sesame Street (2004), Martin guest starred in the street story of Episode 4061 as Cinderella's fairy godmother.
External links
Community content is available under
CC-BY-SA
unless otherwise noted.