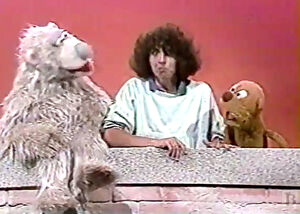 Andrea Martin (b. 1947) is an actress and comedian best known for her many characters on SCTV, notably Edith Prickley, Libby Wolfson, and Mrs. Falbo.
Martin has appeared on Sesame Street in various capacities over the years. She appeared as Edith Prickley in a number of episodes, including 2203, 2259, and 2450. She recorded some lines for "Put Down the Duckie" as Prickley as well. Martin also appeared as herself for a scene with Oscar the Grouch in Episode 2185, and played Pirate Edna in Episode 3132.
Martin also guest starred on Canadian Sesame Street in 1987.
In season 21, Martin starred in a recurring series of segments as her SCTV character Mrs. Falbo, now branded as Wanda Falbo (Word Fairy). She appeared in Episode 2951 as Falbo as well.
She was also featured on "Elmo's World" as the voice of the Lecture Lady, featured on Elmo's TV, among other characters. The Lecture Lady was modeled after Edith Prickley in some of her initial appearances.
In season 35 of Sesame Street (2004), Martin guest starred in the street story of Episode 4061 as Cinderella's fairy godmother. While on-set, she recorded scenes for the celebrity version of "Dance Myself to Sleep."
Outside of Sesame Street, Martin additionally appeared in the 2005 film adaptation of The Producers, which featured puppet effects by Jim Henson's Creature Shop.
Martin's other film credits include the slasher film Black Christmas, My Big Fat Greek Wedding and its sequel, Innerspace (with Dennis Quaid and Martin Short), Wag the Dog (with Robert De Niro), and Night at the Museum: Secret of the Tomb. On TV, she was a regular on Carol Burnett's 1991 sketch comedy series, co-starred on Great News and Difficult People, and had guest roles on 30 Rock, Will & Grace, Modern Family, Unbreakable Kimmy Schmidt, and Kate & Allie. She lent her voice to many cartoons, often as teachers or old ladies, including Earthworm Jim, Frosty Returns, The Adventures of Jimmy Neutron: Boy Genius, Kim Possible, Superman, and Rugrats.
On Broadway, Martin played Aunt Eller in Oklahoma!, Golde in Fiddler on the Roof, and originated Frau Blucher in Young Frankenstein. She won a Tony Award for Best Performance By an Actress In A Featured Role in a Musical for the 2013 revival of Pippin.
External links