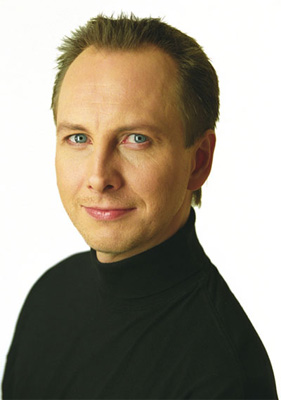 Andreas Nilsson (b. 1964), born Nils Andreas Nilsson, is a Swedish actor who voiced Doc Hogg, Ray, and characters in Shadow's stories in the Swedish dub of Bear in the Big Blue House (Nalle har ett Stort Blått Hus). He voiced Bugsy Vile and various others in the Swedish dub of Dog City, and various characters in The Secret Life of Toys (Leksakernas Hemliga Liv). He also performed vocal work in Creature Shop effect movies, dubbing Ferdinand in Babe, Chip Rockefeller in The Flintstones in Viva Rock Vegas, Roger in 101 Dalmatians, Dr. Mark Weller in Dr. Dolittle, Volpe in [[The Adventures of Pinocchioand Thor in George of the Jungle.
Andreas Nilsson started doing amateur theater in 1979. After moving to Stockholm in 1986, he studied at the Academy of Dramatic Arts in Stockholm, from which he graduated in 1989. He has since appeared in various theaters around Sweden. His TV credits include Björnes Magasin, Agnes, and Roligt.Elakt.Aktuellt.
Nilsson started doing voice work in 1987, when he was selected to be the official voice for Donald Duck. Some of his voice credits include Disney's Lilo & Stitch (as Stitch), Aladdin, and Mulan (Ling). Non-Disney credits include Pokémon (James and Pokedex), Teenage Mutant Ninja Turtles (Raphael and Krang), Batman: The Animated Series ( Alfred, Two-Face, and the Mad Hatter, amongst others), the Abbott and Costello cartoons (Costello), and many others. Live action dub assignments include Jim Carrey in How the Grinch Stole Christmas, Ralph Fiennes as Voldemort in Harry Potter and the Goblet of Fire, and Ken Jeong in Furry Vengeance.
External links