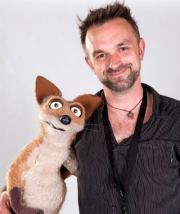 Andy Heath is a British puppeteer who began his career as swing puppeteer on Doctor Dolittle: The Musical in 1998. Since then, he has performed Kit on Play With Me Sesame UK and has also puppeteered guest spots on Mopatop's Shop, as well as assisting on The Hoobs.
He performed a penguin with The Muppets on The X Factor, and then puppeteered various characters in Muppets Most Wanted, including one of the Babies. Later that year, he also had a hand in waggling the chickens in Robbie Williams: One Night at the Palladium on BBC1.
Other film credits include The Hitchhiker's Guide to the Galaxy, Tales of the Riverbank, Harry Hill: The Movie, and Frankenstein (2014).
In 2002, he began performing Bear from Bear in the Big Blue House for various live shows and appearances in the UK , as well as launching the Disney Channel in Sydney in 2005.
He performed Deep on the CBeebies childrens show Get Well Soon, Scuff on ITV's second series of Ripley and Scuff and in 2014, he began filming on CBeebies' new Sesame Street collaboration, The Furchester Hotel, as Cookie Monster cover and additional puppeteer, including the role of Mr. Director in the first episode, the pillow in the theme song, and the taxi driver monster in "Yodel-Ay-Hee-Hoo!"
Through 2009-2011, he co designed, built and operated the puppets for BBC3's adult sitcom Mongrels with his business partner, Iestyn Evans. Together, they run Talk to the Hand Puppets.
Recent Sky One hit, Yonderland , also featured a large cast of characters built and performed by himself and Iestyn.
Other credits include building and operating Audrey II for a 2004 Jersey Opera House production of Little Shop of Horrors and a Christmas 2006 Menier Chocolate Factory production of the same, as well as creature design for the UK puppet series The Pets. He also portrayed Hacker T. Dog for the first season of Scoop.