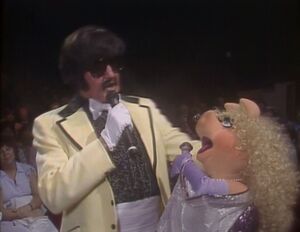 Andy Kaufman (1949-1984) was a stand-up comic who later gained television notoriety through his many, often controversial performances on series such as Saturday Night Live, and through his role as Latka Gravas on Taxi.
One of Kaufman's personae was Tony Clifton, an abrasive lounge singer, whom Kaufman used to "open" his acts and tried to present as a different person. He guest starred as Clifton on The Fantastic Miss Piggy Show, as a new talent discovered by Miss Piggy. Clifton performed a medley which included "Sing". Although openly derisive of Miss Piggy's show when she's offstage, he's flattering to her face, and also takes the opportunity to light a cigarette. He duets with "the pig" on "That Old Black Magic" before making his exit.
External links
Community content is available under
CC-BY-SA
unless otherwise noted.